John's Favorite Recipes
<![if !vml]>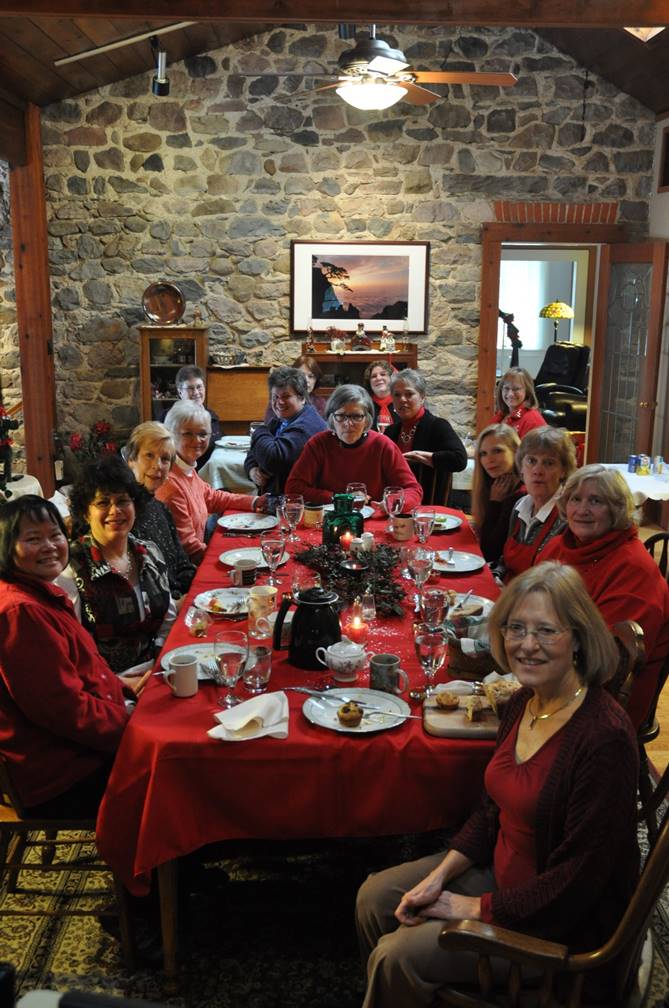 <![endif]>
Edited by John Preston
Acknowledgements
Thanks to my wife Sally for her advice and expert services as an editor. Thanks to the excellent cooks with whom we share food, friendship, and love.
About the Cover
Sally and I have several groups of friends, all of whom love to eat. The women in this photo are Sally's hiking friends with whom we often share meals on holidays and just for the fun of it.
Styles
Each recipe has the same layout and format. The descriptions and lists of ingredients and equipment are on the first page and the table of process steps is on the second. Each recipe is a two-page PDF file that can be printed separately so the steps can be checked off as they are performed. The sections of each recipe are:
· Title
· Description and introduction of the dish
· Picture of the finished dish
· List of ingredients—unlike many recipes, the list does not contain hidden processes, e.g. 1/2 cup diced onions. Instead, the list of ingredients describes what you should buy. If that isn't clear, both are provided, e.g. 1 medium onion (1 cup diced). The list of ingredients corresponds to the order in which they are used in the process section.
· Equipment—I assume that you have a selection of mixing bowls, knives, and sauce pans. When a recipe calls for a tool that might be a bit unusual or something you might not normally have in your kitchen, I list it under equipment
· Process—a table is provided of sequential steps along with an estimate of the time it takes for each step. When steps can be performed at the same time—simmering a liquid and dicing the next ingredient—a second column is used for time estimates. You may take more or less time for your processes, but you can develop a feel for how much to adjust my estimates to your style. The first column is reserved for check marks to keep track of what steps have been performed. Cooks may prefer to print the page and mark up the copy in the kitchen using the check box column to make sure they don't miss a step (I made my crusty bread recipe the other day from memory and didn't remember the yeast until the loaf was in the oven!)
Recipes that are suitable for vegetarians or vegans are noted in the table of contents with a V for vegetarian and V for vegan. Dishes that are suitable for transportation to a potluck dinner are marked with (P).
Sources
This book is an unauthorized collection of recipes from a variety of sources. Most of the recipes in this book are adapted from copyrighted sources. Technically, the changes I make to each recipe is enough to avoid copyright infringement, but I prefer to honor the spirit of the law. For this reason, this book is privately distributed rather than sold publicly. I provide information on how to obtain the original recipes where practical. I encourage readers to support the efforts of those who write professionally by buying their work. I buy cookbooks from Cooks Illustrated and subscribe to online websites such as Food Network, and Americas Test Kitchen and I encourage the reader to do likewise.
Updates
The recipes that are referenced from the following Contents page may be updated or removed without notice. If you have favorites and wish to preserve a copy in case it is no longer available in the future, I suggest that you print out a copy. If a recipe contains an error or if the link isn't working, let me know at john@fallingwatergardens.house.

Contents
(V) = vegan, (v) = vegetarian, (GF) = gluten free, (P) = suitable for transport to a potluck
Breakfast or Brunch
· Egg, Asparagus, and Mushroom Strata
· Eggs - Fried (v)
· Eggs - Hard Boiled (v)
· Eggs - Scrambled (v)
· Mexican Eggs (v)
· Pancakes--Banana, Chocolate Chip, and Blueberry (v)
· Pancakes—Buttermilk with Blueberries (v)
· Scones (v), (P)
· Steel-Cut Oatmeal (V), (P)
· Steel-Cut Oatmeal - Quicker (V), (P)
· Super Hero Muffins (v), (GF), (P)
Starters
· Bacon and Swiss Cheese Puffs (P)
· Baked Brie en Croute (v), (P)
· Basil and Parsley pesto (V), (P)
· Caprese Shooters (V), (P)
· Cashew Dip (V), (P)
· Caramelized Onion and Blue Cheese Galette (v), (P)
· Cheese spread with Garlic (v)
· Cornbread Mini-muffins (v) (P)
· Cranberry Pear Chutney (V), (P)
· Croissants and Cream Cheese (v), (P)
· Deep Fried Sage Leaves(V), (P)
· Fondue de Crustacés (Swiss cheese and shrimp), (P)
· Hazelnut Cocoa Nut Milk(V), (P)
· Hummus (V), (P)
· Hush Puppies with Fresh Corn (v)
· Jicama and Sausage Rice Paper Rolls (P)
· Lamb Turnover (P)
· Muhammara-Roasted Red Pepper Spread(V), (P)
· Mushroom Puff Pastry (v), (P)
· No Cheese Dip(V), (P)
· Olive Tapenade (v), (P)
· Olive Tapenade on Endive (v), (P)
· Olive Tapenade Puff Pastry (v), (P)
· Salmon Mousse on Cucumber, (P)
· Shrimp Remoulade (v), (P)
· Thai Golden Shrimp Baskets, (P)
· Turkey and Bacon Meatballs (P)
· Vietnamese Empanadas (P)
· Yogurt Cucumber and Rose Petal Dip (P)
Soup
· Butternut Squash, Apple, and Curry Soup (v), (P)
· Carrot Ginger Soup (v)
· Cauliflower Soup  (v), (P)
· Chicken and Sausage Gumbo (P)
· Clam Chowder (P)
· Chicken and Wild Rice Chowder
· Cucumber Soup (v)
· Leek and Parsnip Soup (v), (P)
· Mushroom and Wild Rice soup (v), (P)
· Peanut Soup (v), (P)
· Salmon Chowder (P)
· Sweet Potato soup (v), (P)
· Thai Coconut Chicken Soup (P)
· Watercress and Chickpea Soup (V), (P)
· Yellow Pepper Soup (v), (P)
Salads
· Avocado Salad  (V), (P)
· Broccoli Salad  (P)
· Brussels Sprouts Salad (v), (P)
· Spinach and Strawberry Salad, (V), (P)
· Citrus Cole Slaw (V), (P)
· Caprese Salad, (v), (P)
· German Cucumber Salad, (v), (P)
· Kale Lentil and Feta Salad (v), (P)
· Napa Cabbage Salad  (V), (P)  
· Waldorf Salad (v), (P)
· Watermelon Salad (v), (P)
· Watermelon and Tomatillo Salad (V), (P)
· Zucchini Ribbons (v), (P)
Seafood Entrees
· Deviled Crab Cakes and Tenderloin: SNOB
· Salmon with Pistachio Gremolata and Broccoli Rabe
· Scallops
· Shrimp and Grits Charleston Style (P)
· Shrimp Salad: Pat Conroy (P)
· Thai Shrimp with Coconut Milk Peanut Sauce
· Tilapia wrapped in Prosciutto
· Whitefish (v)
Beef Entrees
· Boeuf Noir (P)
· Beef Chili Mole (P)
· Lasagna
· Rouladen
Pork Entrees
· Baked Pork Chops, (P)
· Baked Sausage and Cheese Pasta (P)
· Caramelized Onion and Pancetta Pasta Sauce (P)
· Hawaiian Pork Roast, (P)
· Italian Sausage with Grapes (P)
· Pork Schnitzel in Red Wine Mushroom Sauce
· Sausage Meatballs (P)
· Shrimp. Sausage, and Pancetta
Chicken, Turkey, Lamb and Venison Entrees
· Chicken in a Toasted Almond and Saffron Sauce
· Chicken Masaman Curry, (P)
· Chicken Pesto Strata (P)
· Chicken Quesadillas with Avocado Salsa
· Coq Au Vin, (P)
· Ground Lamb over Yogurt with Mint Sauce (P)
· Jägerschnitzel in Red Wine Mushroom Sauce
· Lamb Kabobs with Pomegranate and Walnut Marinade  
· Lamb Meatloaf with Honey Yogurt Sauce (P)
· Succulent Chicken (P)
· Puerto Rican Chicken Pie (P)
· Roast Boneless Turkey (P)
· Sweet and Sour Chicken (P)
· Thanksgiving Turkey Casserole (P)
· Turkey and Bacon Sliders (P)
Vegetarian and Vegan Entrees
· Cavatappi and Cheddar (v), (P)
· Chili Rellenos (v), (P)
· Doubles from Trinidad (V), (P)
· Egg Rolls(V)
· Falafel (V), (P)
· Fettuccine Alfredo (V), (P)
· Indian Cauliflower (V), (P)
· Mac and Cheese (v) , (P)
· Mushroom Risotto (v)
· Mushroom Stroganoff (v), (P)
· Mujadara (Rice and lentils with deep fried onions) (V), (P)
· No Egg (Chickpea) Salad Sandwiches (V), (P)
· Roasted Sweet Potato, Corn and Honeycrisp Apple (V), (P)
· Sliders (V)
· Spinach Souffle (v), (P)
· Sweet and Spicy Vegan Chili (V), (P)
Sauces, Salsas, Toppings, and a Rub, (P)
· Balsamic and Honey Sauce (v)
· BBQ Sauce (V)
· Béarnaise Sauce (v)
· Beurre Blanc Sauce (v)
· Chimichurri (V)
· Chinese Sweet and Sour Sauce (V)
· Cashew Crumble (V)
· Cumberland Sauce (V)
· Dukkah - nut garnish (V)
· Herb Mayonnaise (v)
· Hollandaise (v)
· Mango Salsa (V)
· Marinade for Beef (V)
· Marinara (V)
· Mayonnaise (V)
· Meat Rub (V)
· Orange Sauce (v)
· Peach Salsa (V)
· Pepper Jelly Sauce (v*)
· Plum Sauce (V)
· Raspberry Sauce (V), (P)
· Southwestern salsa (V), (P)
· Sweet Tomato Chutney (V), (P)
· Tahini Yogurt Sauce (V)
· Thai Sweet and Sour Sauce (V)
· Whiskey Cream Sauce (v)
· Tart Cherry and Red Wine Jam (V), (P)
· Vietnamese Dipping Sauce (V), (P)
· Yogurt Sauce (v)
Side Dishes
· Apple Stuffing (v)  (P)
· Baked Apple Sauce (V), (P)
· Boston Baked Beans (P)
· Braised Red Potatoes (v)
· Brussels Sprouts (v)
· Butternut Squash Salad (v)
· Caramelized Mushrooms  (v), (P)
· Cherries and Sweet Potatoes (v)
· Cheese Grits (v)
· Copper Pennies (marinated carrot slices) (v)*, (P)
· Cranberry Relish (v)
· Deep Fried Potatoes (V), (P)
· German Potato Salad (P)
· Golden Beets  (V), (P)
· Harvard Beets (v), (P)
· Hazelnuts, Haricots Verts, Sugar Peas, and Orange Zest (V), (P)
· Mango Pico (V), (P)
· Mango salsa (V), (P)
· Red Cabbage (Rotkol) (v) (P)
· Rice Salad with Curried Cauliflower (V), (P)
· Roasted Beets (v), (P)
· Whipped Yams with Pecans (v), (P)
· Whole Wheat Pizza with Basil and Three Cheeses (v)
Starches
· Couscous (V), (P)
· Gnocchi , (P)
· Green Rice (v), (P)
· Israeli Couscous, (P)
· Orzo with Mushrooms and Sun Dried Tomatoes (V), (P)
· Rice – white, brown, or black (V), (P)
· Spaetzle (v), (P)
Breads and Muffins
· Breadsticks (v), (P)
· Cream Drop Biscuits (v)
· Cream Drop Cornbread (v)
· Corn Bread with Fresh Corn (v), (P)
· Crusty white bread with sesame seeds (V), (P)
· Irish Soda Biscuits  (v), (P)
· Irish Soda Bread  (v), (P)
· Orange Banana Cherry Bread (v), (P)
· Pineapple Carrot Muffins (v), (P)
· Pita Bread (V)
· Pizza Dough for a Hot Oven (V)
· Pizza Dough Overnight (V)
· Vanilla Shortbread (v), (P)
· Zucchini Bread with Cinnamon and Flax Seeds (V), (P)
Desserts
·      Almond Cookies (v), (P)
·      Apple Dowdy (v), (P)
·      Apple pie (v), (P)
·      Apricot Orange Pistachio Tart (v), (P)
·      Apricot Risotto Souffle (v), (P)
·      Baked Apples (v), (P)
·      Baked Apples (German) (v), (P)
·      Banana Pudding with Vanilla Wafers (P)
·      Black Forest Cake (v), (P)
·      Bread Pudding with Whiskey Cream Sauce (v), (P)
·    Butter Crust for Pies or Tarts (v), (P)
·      Cheese Blintz (v), (P)
·      Cheesecake (P)
·      Coffee Ice Cream (v), (P)
·       CrepesVanderVoort (v), (P)
·        Crème Brûlée (v)
·        Crepes de Dulce de Leche (v)
·        Crepes Suzette (v)
·        Dark Chocolate Coconut Cream Mousse (V), (P)
·        Dark Chocolate Mousse (v), (P)
·        Dark Chocolate Mousse - Blender (v), (P)
·        French Apple Tart (v), (P)
·        French Apple Tart with Custard Filling (P)
·        Frozen Custard: vanilla or chocolate (v), (P)
·        Gingerbread and Lemon Cheese Cake (v), (P)
·        Jeni's Vanilla Ice Cream: vanilla or chocolate (v), (P)
·        Lemon Curd and Meringue Tart Filling (v), (P)
·        Lemon Sorbet and Puréed Blackberries (V), (P)
·        Lime Mousse (v), (P)
·        Mascarpone and Berries Tartlet Filling (v), (P)
·        Oatmeal Tart Cherry Chocolate Chip Cookies (v), (P)
·        Orange Sponge Custard (v), (P)
·        Panna Cotta (v), (P)
·        Panna Cotta Dairy Free (v), (P)
·        Pavlova Meringue (v), (P)
·        Peach Cobbler (v), (P)
·        Peach Pie (v), (P)
·        Pineapple Sorbet (V), (P)
·        Plums in Port (V), (P)
·        Pumpkin Chiffon Pie, (P)
·        Pumpkin Chocolate Chip Muffins, (v), (P)
·        Pumpkin Molasses Chocolate Chip Muffins, (P)
·        Pumpkin, Oatmeal, Chocolate Chip Cookies (v), (P)
·        Raspberry Sour Cream Coffee Cake, (v), (P)
·        Red Velvet Cupcakes with Cream Cheese Frosting, (v), (P)
· Strawberry Pie (v), (P)
·        Strawberry Shortcake, (P)
·        Sweet Potato and Walnut Cake, (v), (P)
·        Tart Cherry and Blueberry Pie (v), (P)
·        Tartlet Shells (v), (P)
·        Vegan Cherry Pie (V) , (P)
·        Vodka pie crust (v)
·        White Chocolate and Raspberry Tartlet Filling (v)
Drinks
·        Margaritas (V), (P)
* Uses Worchester sauce that contains anchovies